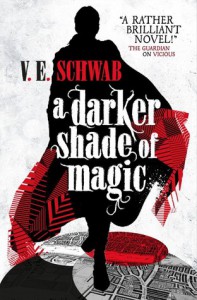 I am too lazy to write up something big...but I will say this...I loved it.
Reading fantasy over the years, you get bored with the same type of story and worlds and magic all the time. So when you find something different, it is great. I loved how the magic worked in this book. That is was not easy and with no consequence. I loved the concept of the different worlds...with London being the fixed point in each one. Very interesting. I also loved the characters. Kell is lovely...and I enjoyed that he and Lila has a great relationship, without there being any kind of romance between them. Not every male and female main character needs to end up in love. If anything...the love story is between Kell and His brother. lol. What an interesting relationship that is, where does his devotion to Rhy come from? It is a bit above and beyond. And hearing that there will be more books, I hope it is explored more.
And based on the book events, I have a feeling that loose black magic is not fully gone, and Grey London won't stay Grey for long. Excited.
Great read.