I read the book Poison Study by Maria Snyder last year, and finally got around to buying the next two book in the series. Why it takes me so long to finish these things is more about life distractions that the quality of the books. The second installment Magic Study was just as enjoyable a the first.
Poison Study was a good read. The books come in several different covers. Each book I have...has one of the covers. My copy of Poison Study:
: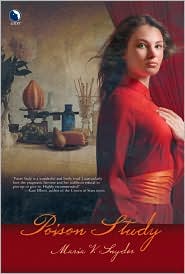 For this post I will be reviewing the second installment
This is another series that they can't seem to find a place for. Poison Study I found in the Science Fiction and Fantasysection of the book store, but soon it was moved to the Romance section and for the life of me I can't figure out why. There is very little romance. But perhaps it is the publishers, Harlequin Luna and then Mira, and the fact that the main character is a female. Who knows. That is a long topic about Fantasy being geared towards males mainly and marketing and gender roles..etc.etc. Let's not go there.

In this installment Yelena travels to her homeland of Sitia, where she was kidnapped from as a young child. There she meets her family, who never stopped grieving for her and her brothers who carries a major chip on his shoulder about her disappearance. She is taken to Sitia's Citidal where she is to be taught control of her magic and learn about her country. Of course trouble follows her. One her way she meets Cahill who claims to be the nephew of the Ixian royal family that was murdered by the Commander and Valek, her lover. He wants to use her to get back his family's thrown and power. There is also a mystery that develops. Someone is kidnapping, torturing, and murdering young girls. It is suspected that a magical ritual is at play and Yelena find herself in the middle.

I found I enjoyed this installment a bit more than the first. There was constant action and excitement and it builds on the first book nicely.